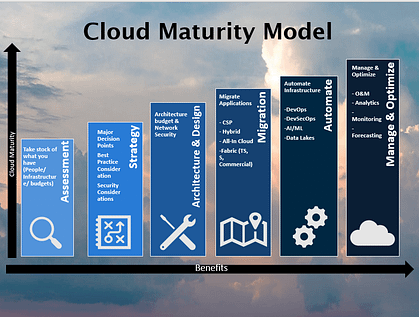 C2SCG developed a Cloud Maturity Model to help customers work through the various Cloud steps as they work through major decision points, best practices, and security when creating a cloud strategy that works in aligning  business needs and goals.
Services Provided:
Cloud Service Provider Strategy (Hybrid, Public, Private) across Fabrics
Budget Analysis and KPI Measurements
Automated Processes/Tools
Security and Network across CSPs
Configuration Management
Risk Management
Culture Change and Reskilling
Cloud PMO Offices
Strategic Plans
C2SCG will review the status of the organization and compute a plan for where the organization should strive to be in the coming years. C2SCG takes on a hybrid cloud approach to the assessment, architecture, and migration of a cloud environment. The fusion betwen private and public cloud creates a solution that is best designed to ensure data protection, manage best practices, and mitigate potential risks. Whether its through Amazon Web Services, Google Cloud, or Microsoft Azure -- C2SCG's cloud-agnostic capabilities and team will ensure that your cloud solutions encapsulates your needs. Every service and strategy that C2SCG creates will be unique to your business's model, goals, and accomplishments.
C2S Consulting Group will provide Business IT Strategies intertwined with:
High-level strategies that go in-depth about mission, core values, goals/objectives, and how your business will accomplish those goals
A model that demonstrates the current and future state of Information Technology projects
How to improve upon the strengths and weaknesses
Forecasting future opportunities and potential vulnerabilities